Unified Procurement Platform
DSSI serves as the buyer for our clients as part of any source to pay relationship. We perform this critical role using our state-of-the-art, web-enabled, purchasing suite, Epic®.
Epic® was developed by a team of expert buyers and technologists in the early 1990's when a reliable solution supporting the critical buying functions of indirect materials did not exist. Since that time, Epic® has been consistently enhanced and upgraded to support the evolution of business needs. It streamlines all your procure–to-pay processes and provides your management with extensive reporting to help you make informed spend management decisions.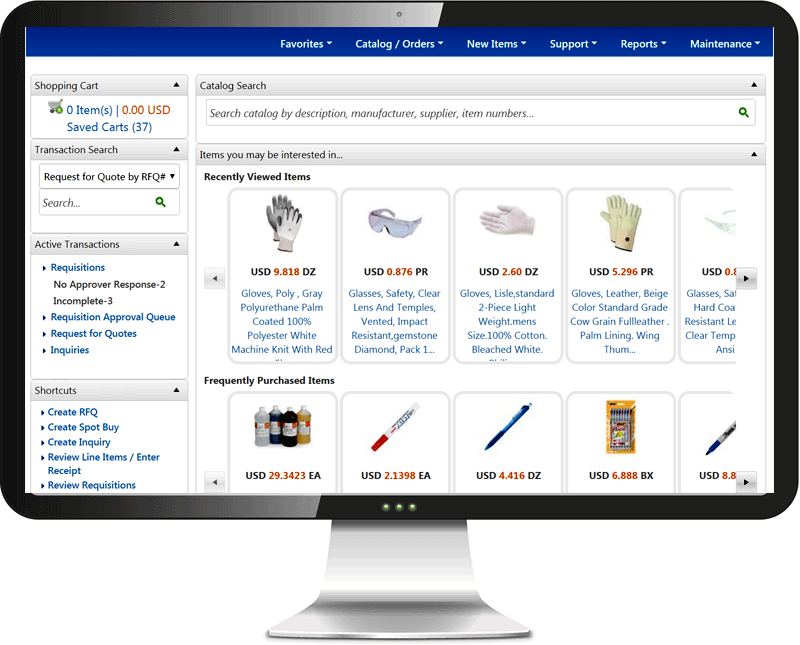 DSSI Sourcing Advantages
Real savings, real value and complete visibility of your spend.
Integrated RFQ and Spot Buy Tools
Strategic, Managed and Directed Sourcing Options
Competitive bidding with managed and incumbent suppliers
Rapid supplier enablement
Location level part number and baseline management
Efficient Checkout Process
Our goal is to use the most efficient processing methods available to the benefit of all. While some clients use Epic® exclusively for their procurement system, most interface existing technologies for a seamless procurement solution.
Clients can use a broad range of technologies to interface with DSSI's procurement services including SAP®, Oracle® and Ariba®. Simply put, if a system can generate an electronic order, we can support it. Other legacy systems we interface with include:
Maximo

Mfg Pro

SAP

Olympic