The New Way to

success.

advance.

progress.
DSSI serves as an extension of its clients' purchasing departments, delivering innovative supply chain solutions that transform indirect procurement management and execution, increase process and resource efficiency, and reduce material and service costs. Our clients realize immediate gains in indirect procurement performance as measured and reported against clearly defined objectives.
Who We Are
DSSI's roots go back to the early 1990's when a group of purchasing executives from the Automotive, Consulting, Consumer Goods and Technology industries founded a Source-to-Pay services company supporting indirect purchases. Today, the company is a recognized leader in the procurement services industry. DSSI, LLC is privately held, Minority Certified and ISO 9001:2008 Certified.
DSSI, LLC is consistently recognized for its expertise and service capabilities including:
Leader in Procurement Best Practices - IDC Study
Top Procurement Solution Provider - Supply & Demand Chain Executive
Procurement Services "Leader" - Nelson Hall Study
"Perfect 10" Service Provider - FAO Today Magazine
Top 10 Procurement Service Provider - Black Book of Outsourcing
Top Minority Business Enterprise Supplier - Delphi Automotive
Industry Contender - Everest Research Study
2011 Global Growth and Leadership Award - Johnson Controls, Inc.
2011 Excellence in Execution and Leadership Award - Johnson Controls, Inc. – Building Efficiency
2015 Minority Supplier of the Year Award - TriState Minority Supplier Development Council
Supplier Excellence Award - Yanfeng Automotive Interiors
2019 Distinguished Supplier Award - Yanfeng Automotive Interiors
SOLUTIONS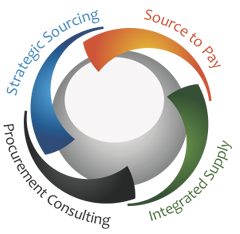 Unique Benefits
Access to aggregated contracts

Ability to manage "maverick" spend

Strengthened corporate programs

Unprecedented savings

Closed-loop processing

Detailed reporting

Improved financial control

Efficient resource deployment

Proven procurement technology
Results
DSSI's clients typically exceed a 200% program ROI. In the world of business, this is an unprecedented return as most companies will undertake a strategically aligned program if the ROI exceeds 20%. Two key areas drive these substantial program returns: process savings and item savings.
Our process savings have been shown to exceed those provided by alternative approaches by nearly $18 per transaction. The processing capabilities we employ positively impact sourcing, item data management, requisitioning, approvals, ordering, tracking, receipting, crib management, supplier settlement, client invoicing and reporting. These savings result from our ability to do more with less people through a highly automated e-procurement system that improves the flow, timing and quality of activities and information.
Our item savings result from comprehensive price comparisons between exact items based on manufacturer name and manufacturer part number; not substitute or similar items. Our team achieves these outstanding results by aggregating an individual client's spend from across their enterprise and, wherever possible, combining it with that of our other clients providing extraordinary sourcing leverage.
2017

DSSI continues to expand its presence within the EU. The same successful model of aggregating multi-client spend and managing supplier negotiations and data on clients' behalf has been established in thirteen countries including Germany, UK, Slovakia, Spain, Czech Republic, France, Poland, Hungary, Romania, Slovenia, Belgium, Italy and Sweden. DSSI's reach continues to grow as it adds quality catalog content from more than 6,000 suppliers in multiple languages and currencies.

2014

DSSI expands its footprint and begins to offer its purchasing services in Europe. DSSI establishes DSSI International and a shared service center in Bratislava, Slovakia as its operational base to roll out its services throughout Europe. This geographic expansion allows DSSI to broaden its relationship with existing clients and to support future clients across Europe and North America.

2009

DSSI's establishes a Mexican subsidiary, Sourcing Direct International S de RL de CV (SDI), to support indirect purchasing needs in Mexico. SDI provides the same source-to-pay value proposition for our Mexican customers that DSSI provides to its US based clients including process improvement, cost reduction, increased control, and data integrity and visibility through strategic sourcing and transactional management.

2002

DSSI acquires WorldCrest Group owned by Kohlberg Kravis Roberts & Co. (KKR). The combined company becomes a leader in the emerging procurement service providers market with a complete requisition-to-payment purchasing system and process, aggregated spend of nearly $1 billion in over 30 categories, and a world-class supply chain with particular expertise in MRO and chemicals.

2001

The team develops and launches a new internet based e-procurement system, Epic™, to take advantage of multi-client buying aggregation and shared services model efficiencies. DSSI also establishes its long-running ISO 9001 certification. DSSI begins its pioneering relationship with Johnson Controls Automotive to jointly redefine the optimal methods and technology to buy MRO and leverage a group purchasing environment.

1990

A group of purchasing executives from the Automotive, Consulting, Consumer Goods and Technology industries founded a Source-to-Pay services company supporting indirect purchases. During the initial years the company focussed on negotiating and purchasing IT products for a Fortune 10 company and in late 90's diversified into MRO.